When Steve received an invitation to JOICO INTERNATIONAL'S Select Account Hairdressing Conference this November, he never imagined he would be the Star of the Show!
Taking place at the Manchester Hilton and sponsored by both Maison Veuve Clicquot and Alan Howard Hair and Beauty, forty six Hairdressing Salons from across the U.K. were represented.
After presentations from top industry icons and some super talented hairdressers, Jonathan Littler, JOICO'S Managing Director, had a special announcement to make: STEVEN BURGIN had won their most prestigious Business Manager of the Year Award.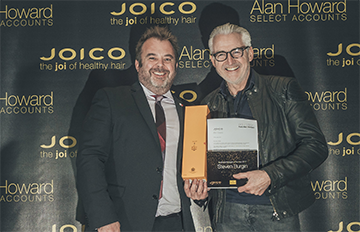 The Judges had been particularly impressed by Steve's business ethos, his emphasis on top-notch customer service and business excellence.
As soon as the initial shock of receiving the accolade had sunk in, he was texting his Team (Denise, Lucy and Louise) to tell them the totally unexpected news. 'We're thrilled that Steve's talents have been recognised in this way' said Salon Manager Denise 'He's a great boss and it's a pleasure to work with a true professional' Lucy and Louise were equally delighted particularly as Steve's willingness to share his vast experience is a constant inspiration to them whilst building their own careers.
Steve himself was 'delighted but genuinely humbled'. He's now the proud owner of a rather elegant trophy currently on display in the Nantwich Salon.
Everything You Need
We do it all, and we do it well
Understand how by calling us today – 01270 624333
If you can't talk now leave your number below and one of our team will get back to you